By guest KIT blogger, Dave Andersen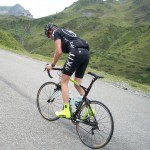 Motivation. Where the hell does it come from and how come some folks have so much? I've been in the endurance and racing game since 1977. I can vividly recall many times throughout my athletic career where I was so motivated to achieve my best shape and results. At times my motivation to athletically succeed had consumed me, for better or worse. During my high school cross country and track years I was thoroughly driven and wound up with 72 races under my belt. My childhood American heroes, Bill Rodgers and Frank Shorter, were on top of the running world and a beacon to my younger self. After high school and some wayward years I was back running. In a 2 year span I raced 35 times and set most of my fastest running times from 5K to the marathon. I trained with other young like-minded athletes and recall we all derived motivation from each other and the group dynamic. Alas, an injury and the desire to do other things squelched my motivation. A few years later it was back. And it was back with a vengeance!
From 1990-1995 I raced 153 times, everything from 5K to the marathon, biathlons, and triathlons. I was fit and in my early 30's. At times I felt like Superman. As can be the case, an injury knocked me down and took a bite out of my motivation. For the next 5 years I did some short races but my body was not 100% cooperative so I kept it all in check. Fast forward to the year 2000 and the body was ready and then the motivation kicked in…AGAIN. How fast could I run at age 40? I trained harder than ever before and after a few years I found out the answer was pretty fast — almost as fast as when I was in my early 20's. Sweet! Alas, when you push yourself to the limit things often break, or get so overused they become injured. So, it was time for the serious racing to go on the back-burner again. I stayed fit and did some running races and added more cycling.
By the time I reached 50 years old I decided to try straight-up bike racing…road cycling to be specific. I got a USA Cycling license. Before I even raced I crashed and spent a few days in the hospital. I didn't let this stop me; I was motivated to see what I could do. Fast forward 3 years and 89 races later and the answer is: fast. In my second year I moved up to a category 3 racer and now on the right (hilly) course in a masters race I have been able to get a handful of top 15's. Winning, although nice, is not what motivates me. The desire to be as fit, fast and smart as I can be burns within me.
The motivation to be MY best is what drives me. There will always be fitter, faster, and smarter racers but it's nice to see what you can get out of yourself and to reach your potential. None of it comes easy and the successes are few. Sometimes I think it's the lifestyle that motivates me. To be a competitive athlete is fun, fulfilling, and hardcore. The older I get the more I appreciate it. And when I see guys that are 60 or 70 and are still super fit, I find that motivating too.
See you on the road soon!
Dave
——————-
*Dave Andersen lives in Boston and works in the educational publishing business. He shares his passion for cycling and sport with a wide range of friends and competitors.