By guest KIT blogger, Dave Andersen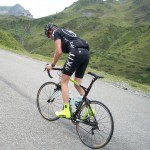 Here we are in mid-August and I can feel a "peak" coming on! Many of us that race (tri's, marathons, or cycling) have big races coming up. I've been racing for 35 years and many of those years have culminated in a big season-ending goal race. This year, for me, it's the 4-stage, 4-day Green Mountain Stage Race and I gotta tell you, I'm ready to PTHD. The cycling season in New England started in April and it's been a long and steady progression of fitness for me. Amazingly, at my age, I'm still setting personal records in my interval sessions and hill repeats. This is not only a result of this year's training plan but from an accumulation of a lifetime of endurance training. You might say, I possess Old Guy Power. I've competed in 25 marathons, 6 Ironman triathlons, many multi-day bike races, and about 500 races in all. I've done about all I can do to devote time evenly to my fitness, family and work. Bottom line is: It's an exciting time when the big end of season races roll around so enjoy it to the max!
Unfortunately, all good things, including peak fitness, must come to an end.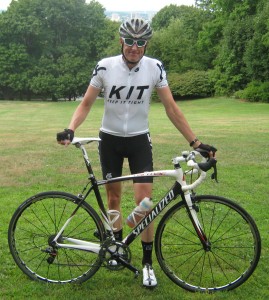 It can be tough after the end of season goal race is over. We focus for months on intervals, hill repeats, racing, and watching our diet and then the big race is over. For a while we can bask in the glow (hopefully). But then what? There is no need to hammer out the training sessions. But it is so ingrained in our routine that we may feel inclined to keep at it. But then you ask yourself why. It can be a confusing time of the year. You are super fit but the racing is basically over. I know many folks get kind of blue after the racing season is over. I've found it's best to be prepared for this feeling and perhaps bypass it with some "tricks":
Group rides: For us cyclists, group rides with friends over new courses (get lost!) are extremely satisfying.
Cyclocross: X-cross is an amazing way to get the endorphins going in a relaxed, grass-roots atmosphere.
Running Races: Get out there and do a fall 5K or 10K.
Hiking: Put those strong quads to good use and bag a few peaks.
But let's not get too far ahead of ourselves. It's only August and it's still hammer-time. I've been doing double workouts several times per week and the intensity has been high. I can almost bounce a quarter off my abs. The big race is just around the corner for me..maybe for you too. If you aren't racing maybe it's time to throw in an attack on your weekend group training ride (no guts no glory!). Show your training partners on "the big hill" or town line sprint that you've just been toying with them all year. Be safe, PTHD and KIT.
See you on the road soon!
Dave
——————-
*Dave Andersen lives in Boston and works in the educational publishing business. He shares his passion for cycling and sport with a wide range of friends and competitors.