By guest KIT blogger, Chris Chapron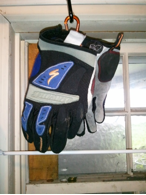 My basement is filled with hobby clutter: kid clothes, tools, auto parts and most importantly, bike equipment. Each item has its place; there are drawers of old cassettes, new cassettes, spare shifters, pedals, brake pads. If it was on my bike and still has a use, it's still there – nothing gets thrown away. After all, there is always a friend who might need it in a pinch, or it could suffice as a suitable back up. However, there are a few parts or cycling items that stand out, conjuring colorful images of past events. One such item is a pair of Specialized MTB Gloves (shown here).
"Grease, Sweat, and High-Fives" This one pair still hangs in the basement among old race numbers, chainrings, fresh cables and other parts. I look at those gloves and remember having to wash them repeatedly after one extremely muddy North Shore Classic. Although my bike and body were covered with mud, these gloves kept my grip on the bars, wiping chunks of mud off my glasses and face with ease. I recall an epic ride when I had to stop to replace a broken chain and the gloves got greasy but felt comfortable in that role. They have served as a fly-swatter when changing flat tires in the woods, the mosquitoes descending upon us. They have been there when the temperatures dropped mid-race at Hop Brook Damn, snow started falling and along with the rest of me, they froze. They have wiped the sweat off my face on the hottest summer rides and been stained with salt.
Whenever I see them in my basement, I remember all the distinct moments on the bike, racing or riding amongst friends. They have high-fived buddies after a sprint to the finish line in Vermont, and protected my hands when I crashed (too many to recount). They inspire me to remember the past but look forward to the next adventure, making even the shortest ride fun. I remember these events and itch to get out and ride, doesn't matter where to.
It wasn't until recently that I showed them to my oldest son.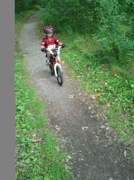 He doesn't know how special they are but he will in time. He knows that I always wear gloves when I ride, so when it is his turn to get ready to take to the dirt, he too now has gloves. He has his secret drawer where he keeps all his special items, and right on top of everything else are his first pair of gloves (Sixsixone makes some awesome gloves in kid sizes). Whenever we go for a ride around the river or go to the woods, his gloves come out.
Gloves: Just simple pieces of stitched fabric…Fabric that can evoke the strongest memories and stoke the desire to get out, ride, and PTHD.
What's the one piece of gear that gets you pumped up for a good ride, run, skate, ski, row or swim?
* Chris Chapron is a father of two boys, mountain biker, roadie and a daily bike commuter. When not putting the hammer down (PTHD) at work and enjoying time with family, he is out exploring local trails, roads and New England breweries.