By guest KIT blogger, Dave Andersen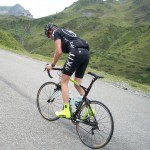 When I was a freshman in high school I began experimenting with sports. At first it was basketball, then I dabbled in track and field, then I found my way to cross country running. I immediately fell in love with it. It required hard work, and I liked pushing myself to my physical limits. I found that if I trained hard I had some success in competition. Little did I know back then that this path was the beginning of what would become the defining thread throughout my life. Fitness coupled with competition is what I like to call "the sporting life".
"The Quest for a Balanced Life
Cross country races led to track, culminating in several NH State Championship races. After a few wayward years I found my way to road racing: 5K, 10K, half marathons, and by age 22 my first marathon. By now I was living in NYC and found myself on a sponsored running team. This was the life, traveling to races with other young guys. However, sport, like life is not always a constant upward trajectory. I got injured and burned out. Life took a turn. A couple of years later I began again. At first I jog-walked a mile. I also bought a bike. It turns out there were run-bike-run races (back then we called them biathlons). I met other like-minded guys and heard about triathlons. I got married. I started swimming. A couple of years later I did my first Ironman. Then another. I began to travel to far away races with my wife.
Fast forward 15 years, 25 marathons, hundreds of running and multisport races, life took another turn. Injury and burnout (again). My wife and I picked up golf and that was our "sport" for several years. It was fun, involved travel to new locations, and a new group of friends. Alas, people grow apart and although we tried, we amicably divorced. Once I got used to my new life I fell back in love with, you guessed it, the sporting life. Running, multisport, even cross country ski racing. Up to this point (age 50) I had yet to try bike racing. Luckily for me my co-worker Gus helped guide me in the beginning. Now here I am with 2 years and 60 bike races under my belt. In a few weeks I'll start my 2012 race season in the Cat 1/2/3 Marblehead Circuit Race.
I strive to live a balanced life, after all, one thing I've learned is that injury and burnout are no fun. Balance and moderation are important. Friendships, family, and work are not to be taken for granted. Still, there is no escaping the fact that when I look back on my life, many of my happiest times are when I have been engaged in the sporting life with friends and family. Many of these friendships have endured through life's ups and downs. I will share more of this lifestyle choice in future updates. In the meantime, keep it tight!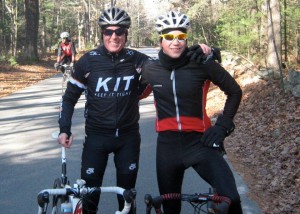 * David Andersen lives in Boston and works in the educational publishing business. He shares his passion for cycling and sport with a wide range of friends and competitors.