By guest KIT blogger, Chris Chapron
These days my riding is predominately associated with my commute. Depending on the time of year, at least part takes place before sunrise or after sunset and safety is always an issue when traveling the streets of Boston, Cambridge and the suburbs. I rely on a variety of lights to make sure motorists and pedestrians alike can see me."Light and Tight"
I started off running the Knog Beetle up front and the Boomer in the rear.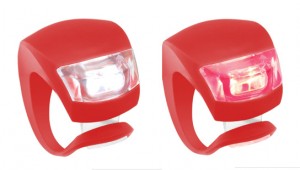 The design is simple, they wrap around the bars and seatpost rather easily and the button cell battery has a good life when using the strobe mode. Their ease of use, reliability and waterproof casing all make these a solid commuting light in low light situations. However, I wanted more power, more "blinky" ("strobing" for you technical folks), as being seen well in advance is my first priority.
So I went back to a tried and true manufacturer of cycling lights that I have relied heavily upon, Nite-Rider. Up front I added the Lightning Bug 3.0.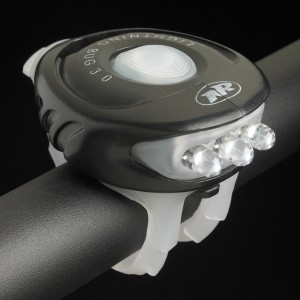 Like the number says, it uses 3 LEDs with the same type of silicone bar enclosure, battery, and push button operation. I have switched this light frequently to my helmet when riding different terrains. It is far brighter than the Knog, the strobing is more intense and it illuminates farther (yes, I realize I'm comparing a 2 LED light to a 3-LED light). The push button operation can be finicky because I can't tell the difference between the high and low setting other than both settings are blinding. I have heard and seen the silicone bar enclosure break, however customer service will hook you up. For the rear of the bike, the Cherry Bomb really lets motorists know I'm in front of them.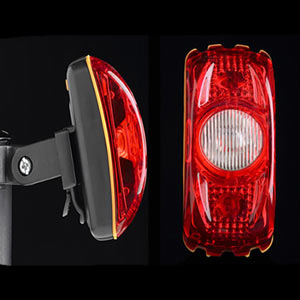 Of all the red blinking/strobing lights, this light crushes them all for brightness. It runs on 2-AAA batteries and runs for a decent amount of time (I use rechargeable AAA's). I have it attached to either my seat stays or seatpost so the mounting position is versatile. It has two settings: "on" or "strobing". The only negative remark is the button to turn it on is too small.
Are there other lights out there? Yes, the supply is endless but the goal is to be safe and be seen.
"Bright and Tight"
The lights mentioned above get me through the commute, however if your ride is going to be epic — whether it's the weekly night ride at Harold Parker or getting your LSD training ride in before or after work – you want even more power. You want lights that are bright and TIGHT. I won't compare lumens on the tiny lights mentioned above – it's something that is more important for technical lighting systems and should factor into your decision.
I personally run the MiNewt pro 750 from Nite-rider.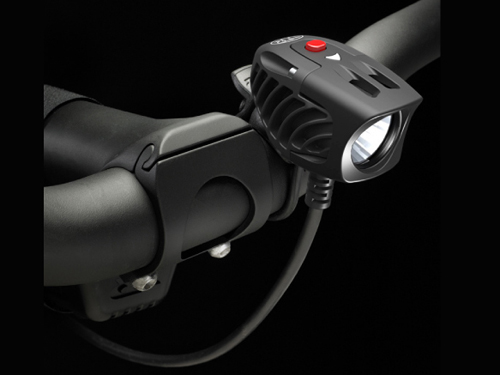 Four settings for brightness, lightweight and rugged battery so far have survived a few adventures into the woods and one weekend of 24 hour racing. The light is probably the heaviest of the three I mention here so it could get a little awkward when helmet-mounted. 750 lumens is pretty standard for a light of this size, and the LEDs produced a nice crisp light without too much of that HID blue haze from previous lights. At the max setting I get about 80 minutes of consistent power before it begins to fade, however you have the option to switch to lower light settings before you start stumbling around in the dark woods (which is about par for the course for me anyway). Nite-rider offers more powerful lights to fit your illuminating needs as well
"Bright and Super-Tight"
A second lighting system that I have only had the pleasure of borrowing but not actually owning, are lights by Ay-Up Lights.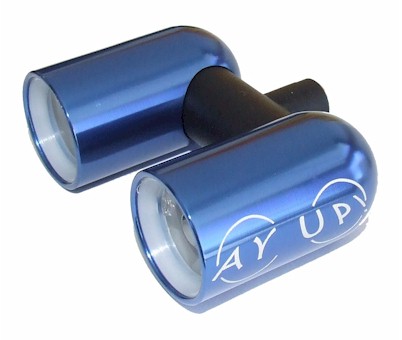 The newer version will have a fuel gauge so you know how much power you have left. These are by far the lightest set I have ever used and one of the most rugged. When ordering you can even specify what "beam" you are looking for, narrow, intermediate and broad. Now that's TIGHT! The battery is stored in an easy Velcro neoprene pouch. The kit came with different mounts: handlebar, helmet, head torch. These were the best lights for helmet use and illuminated the path superbly. I was able to see all the rocks and roots I was about to hit and still hit them anyway. The twin lights are attached to a bar which allows each light to be adjusted independently. I don't know the lumen rating of these lights, however they were bright. These are manufactured in Australia so you can brag to your buddies how your lights are Aussie tough (I don't know what that means but it sounds good).
Lastly, there is one last light that should be thrown into the mix: The Lupine Tesla SC 750 lumen light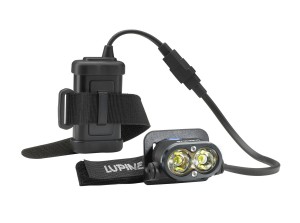 Unfortunately I haven't used this light but a close friend swears by it and motorists have surely cursed at him for its blinding bright beam. I have seen him ride and this light has to be bullet proof to withstand the pounding it takes when he is out commuting and mountain biking. They no longer make this particular model light and it has since been replaced by the Piko 3 or Piko 6 but they will still service this light. The circuitry in his light broke, causing it to turn off randomly, customer service mailed him out a new lighting head and all was good as new so they continue to service past products which might lead me to believe they have decent customer service. Now I'm done writing this piece, so get out and ride even if the sun isn't up, there is no excuse not to now.
*Chris Chapron is a father of two boys, mountain biker, roadie and a daily bike commuter. When not putting the hammer down (PTHD) at work and enjoying time with family, he is out exploring local trails, roads and New England breweries.