By guest KIT blogger, Chris Chapron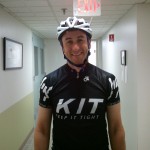 I'm going to cut to the chase. I'm a mountain biker at heart. I prefer dirt to pavement. I started off racing MTBs and that grew into cyclocross to extend the season (and the occasional foray into some Wells Ave training races (Newton, MA) which all have been replaced by commuting and bringing the kids on their bikes into the woods. With that being said, as the years passed I needed a new pair of shoes that could stand the rigors of commuting, the occasional race, and helping the young-ins push their little BMX bikes through the woods and up the hills.
"Northwave Rebel SBS" I'm on a budget, a tighter than spandex budget. Would I love some Sidi Eagles or Mavic Rush's ? Yes, but my wallet does not. I picked up a pair of Northwave Rebel SBS instead (formerly know as the Raptor SBS) for $110 with shipping while on sale. The specs read something like: Ratcheting buckle-SBS strap, two Velcro straps, aggressive tread pattern, carbon reinforced soles, standard issue. Nothing fancy but built sturdy, light, well aerated, and they look good. Form and function achieved.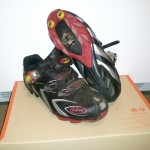 I have logged over 20 months in these shoes and still love them. A slightly wider than normal toe box fits my overly flat feet and an adjustable footbed insert helps dial them in. They work well with the shimano XT pedals/cleats, a carry-over from the MTB days. Water, mud, Cambridge potholes, spilled drinks, and the occasional hike across streams and gravel have not destroyed them yet. I had one ratchet break when my youngest decided to experiment with a hammer. I contacted Northwave customer service and they shipped out not one, but two matching ratcheting buckles so the colors would match for no charge. Even followed up with an email to make sure they worked. For the money, you can't go wrong with any of their offerings. They even come in white, because I'm told that's "Tight"!
*Chris Chapron is a father of two boys, mountain biker, roadie and a daily bike commuter. When not putting the hammer down (PTHD) at work and enjoying time with family, he is out exploring local trails, roads and New England breweries.